Team building days are a great way to reward your team and to improve employee engagement by getting groups working together and having fun. If you're looking to justify spending money on a corporate event for your team, here are some of the benefits to spending time with your team at one of our team building events:
---
1) Shared Goals
Working together towards a shared goal is the perfect way to engage with employees and to encourage them to look at the bigger picture. On a team building day, everyone has a common purpose and must work collaboratively to achieve their aims. This notion of a collective vision gives individuals a sense of worth and helps them to understand that the role they play matters and contributes towards the overall outcome for their company.
2) Relationships 
Having a team who can work well together and who have positive working relationships is essential if you want to have an engaged workforce. One of the key questions which is asked when measuring employee engagement is do you have a close friend at work, so make sure you give your staff the opportunity to build and foster relationships on your next team away day.
3) Value and Reward 
Engagement rises when people feel like their managers and leaders care about them. It sounds very simple but showing that your company values its employees can make a significant difference. Taking a team out for a team building day, paying for activities, a meal and a hotel stay may seem small but can make a big impact in changing the way employees feel about the place they work.
4) It's Fun 
Our activities are designed to get groups laughing and working together. Whether you're watching your boss try to herd a group of ducks through a tunnel or are going head to head against the team from accounts in our Last Team Standing competition, having fun on a team away day is the perfect way to put your staff in a positive mood. It also gives them something to talk about with their colleagues when they get back to the office.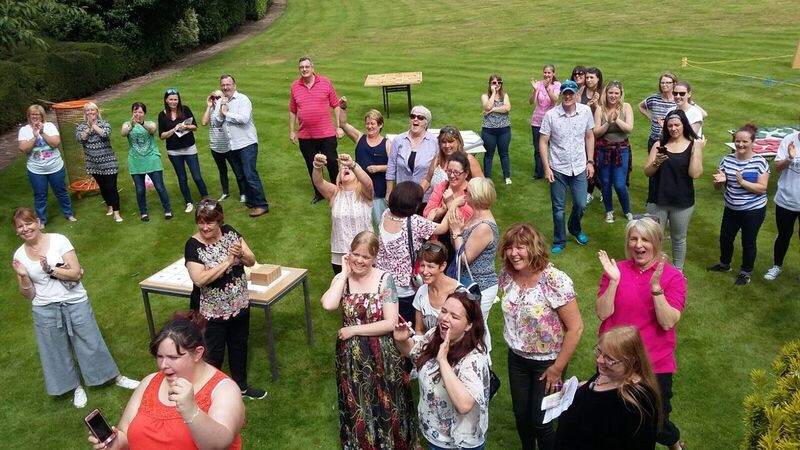 5) Equal Opportunities 
Our activities are a great way to change the dynamic and give all participants the chance to contribute and to take on new roles.  Whether you are the CEO or junior office assistant, everyone is expected to get stuck in and to have fun working together.  Without a hierarchy or formal structure to follow, individuals can shine and often discover new talents and abilities.
6) Communication 
One of the best ways to improve employee engagement is to listen to employees and allow individuals to contribute to the business by sharing ideas and feedback. Team building days are a great way to encourage and improve communication channels allowing organisations to collect honest feedback from their staff.
7) Confidence Building 
Our activities are designed to build confidence and to allow individuals to succeed. Unlike some other team building companies we never make people feel embarrassed or uncomfortable. Our staff are always on hand to encourage and support the teams, providing coaching and assistance to ensure everyone leaves feeling successful.
8) New Environment 
By getting people out of the office you change the dynamic. This helps individuals to step out of their comfort zone and to take on new roles within a group. By adjusting the environment, you create new opportunities for people to meet, communicate and accomplish objectives.